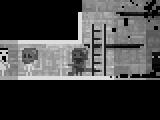 When a monster is decapitated, its head will fall to the floor. From there, it can be kicked by both Red and other monsters to deal serious damage to whatever it hits. The log considers monsters that are killed this way to be "[killed] by soccer." Heads can also be crushed if pushed against a wall, landed on, or smashed against a ceiling while on top of a ladder-climbing entity. When a head is crushed, there is a chance that a face will be left behind. Faces can be equipped in the armor slot to grant the abilities and form of the monster it was from. Additionally, faces are not auto-sorted like other armors.
Ad blocker interference detected!
Wikia is a free-to-use site that makes money from advertising. We have a modified experience for viewers using ad blockers

Wikia is not accessible if you've made further modifications. Remove the custom ad blocker rule(s) and the page will load as expected.